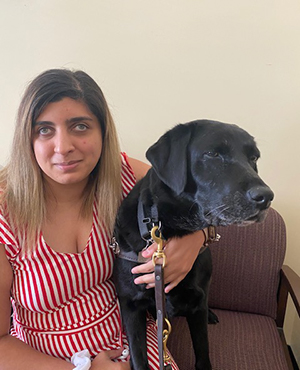 Sarah Patel, LPC
MS Clinical Mental Health Counseling

Education and Qualifications
Marquette University- Bachelor of Arts 2015
Marquette University- Masters of Science 2018
Experience
Working with survivors of sexual assault/domestic violence since 2014
Experience working in university counseling center 2017-2018
Experience in private practice since 2018
Areas of Expertise
Trauma/PTSD
Mood disorders
Young adult issues
Life transitions
Anxiety Disorders
School/career issues
Relationship issues
Multicultural concerns
LGBTQIA+ concerns
Philosophy
As a therapist I adhere to the philosophy of cura personalis, care for the whole person. I work to meet clients where they are at and feel all areas of one's life can be addressed in the therapeutic process. I believe in a strong therapeutic relationship and work to keep an open, honest dialogue with the clients I work with.
I have experience working with survivors of trauma of any age. I work with both recent traumas and trauma that may have occurred in childhood. I also work with individuals experiencing secondary trauma, whether that be partners, parents or professionals who see or hear about other's experiences with trauma.
I work with young adult clients on a variety of things, such as life transitions, relationship/friendship issues and school/career issues.
Multicultural concerns span many areas such as gender, race/ethnicity, sexuality, ability status and so much more. I use a strengths based approach when working with clients around multicultural concerns.
I use a variety of modalities such as CBT, DBT and work from a trauma focused lends. I truly believe that the most important part of therapy is the therapeutic relationship and building that in order to develop trust and understanding between client and therapist.